Welcome to EVChargeking's webstore!
We provide quality charging cables and charging stations for Electric Vehicles all over Europe. We use a high quality European brand electric cable to produce our charging cables. In contrast to the commonly sold Chinese import orange or black cables, our cables are 20% lighter and far more durable for about the same price! As we cut, assemble and test our cables here in Belgium, we can provide any length you need.
NEW: Pay with Bitcoin and get a 1% REDUCTION!

Be sure to check out our line of charging stations! These high quality and extremely robust stations come in single and 3-phase versions, with your choice of connector and cable length. Also available with Tesla Button!
-- New Tesla charging cables with fully integrated, serviceable and 100% waterproof command button --
For professional buyers with valid VAT number in the European Union, excluding Belgium, and for all orders shipping outside the EU, no VAT will be included in your order. If you have any questions or suggestions, or if you are in doubt as to which charging cable or charging station is the right one for your car, do not hesitate to contact us, we will be glad to assist!
---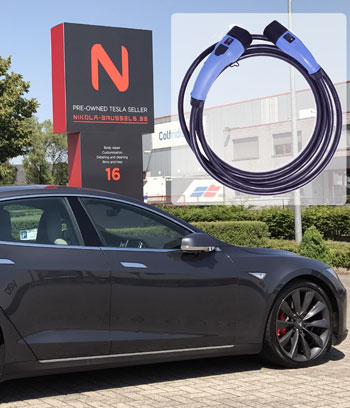 Nikola Brussels to offer our Tesla charging cables
Nikola, specialized in pre-owned Tesla's now has our Tesla charging cables available for immediate purchase.
If you ever want to sell your Tesla, or if you are sourcing a used Tesla, Nikola is THE place to be. With a Brussels and Porto office they provide an excellent service and an extensive on-site inventory of used Model-S as well as Model-X vehicles.
Besides used cars, Nikola also provides 21" and 22" Tesla Turbine rims in ANY color, window tinting, brake caliper painting, custom headliners, bodykits, etc... All professionaly manufactured and installed.
On top of that, they can now provide you with our Tesla charging cables. Just ask for them when you visit!
Visit their website www.nikola-brussels.be for inventory and directions!
---
Google Reviews
evChargeking Rated 5 / 5 based on 26 reviews.